With its increasing popularity and the nutritional values it contains, avocados are becoming one of the favorite fruits of people of all ages. Avocado, which is the guest of a new delicious recipe every day, has an important position in the world markets with its commercial value. Have you ever thought about where avocados, which are both popular and have a commercial value, come from and which countries produce them?
We have prepared a nice article for you to answer this question. In this article, after giving statistical information about avocados, we will provide information on why Kenya is the new route for avocado imports.
Let's start without wasting any time…
In general, if we ask what an avocado is, almost everyone will describe it as a food with a green skin, the size of the palm of our hand, with a creamy taste, delicious and with many health benefits. Although there are many varieties of avocado, this is how an avocado is described in the broadest terms. The avocado fruit is considered a tropical fruit and although it has a history of at least 10,000 years, it is only in the 2000s that it has been recognized as a healthy food all over the world and reached the top of diet lists.
Even in America, which imports the most avocados in the world, avocados were almost an unheard of fruit from the 1900s to the 1990s. It gained a huge momentum in 2015 when avocados were featured in Super Bowl commercials, which meant great entertainment for Americans, and since then, an increasing demand and production for this demand has been going head to head.
Let's illustrate this with a graph…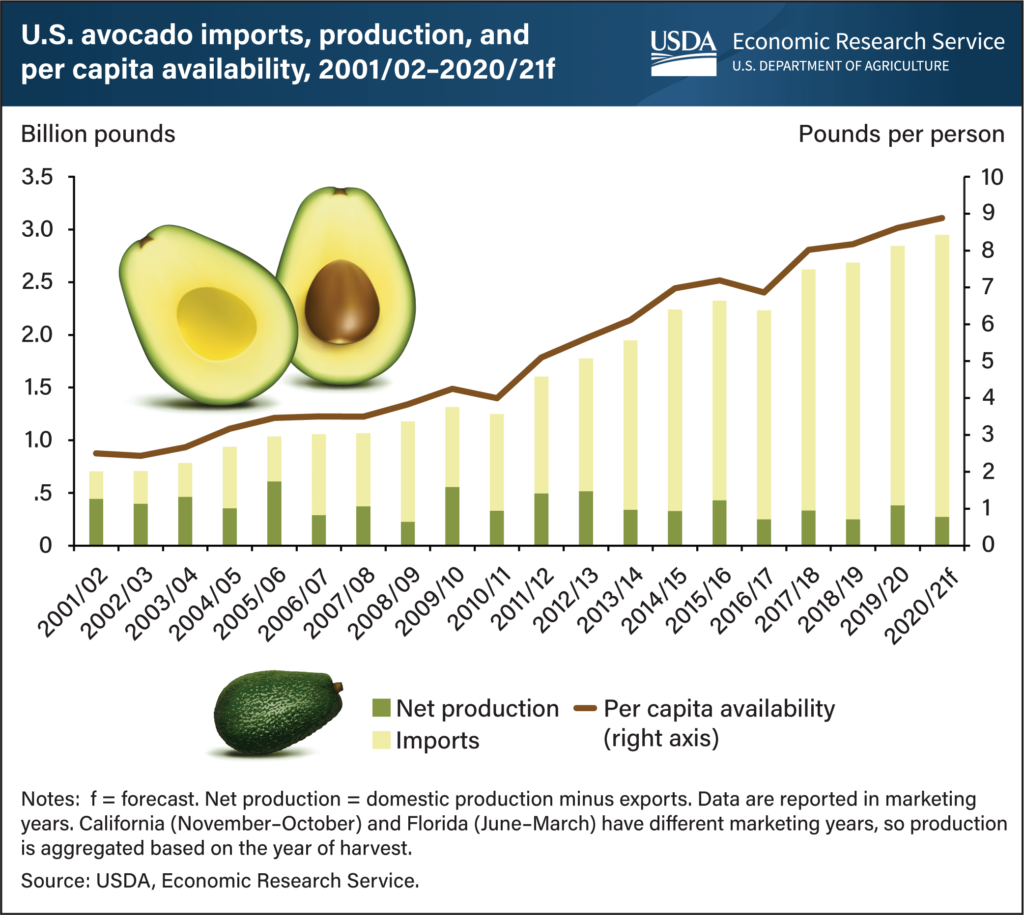 In this graph, you can see how much per capita consumption has increased from 2001 to 2020, and how much of this is due to avocado imports.
Although this graph is for the United States, there are similar graphs in many other parts of the world. When we look at the big picture, which is the avocado trade globally, it's really exciting and the size of the avocado market worldwide for 2021 is estimated to reach USD 13.97 billion, and with a projected growth rate of 7.2%, the avocado market is estimated to reach USD 26.03 billion in 2030.
As you can see, the avocado market is a really big market and every country is trying to get a share of this market… Now let's take a look at which countries are in the avocado market and how much production they realize…
The largest producer globally is currently Mexico. It is followed by the Netherlands, Peru, Chile, Spain and Kenya. In the global market, 44% of the avocados produced in Mexico are sold, and 92% of the avocado imports of its closest neighbor, America, are from Mexico. A little further down, especially in Europe and in countries like Turkey, which has a large population within Europe, Kenyan avocados are on the market shelves. As one of the most striking examples, Kenya alone meets 73% of Turkey's avocado imports.
We all know very well that the world has just recovered from a pandemic and the supply chain and certifications, especially in the food sector, have become extremely important. One country puts forward certain conditions for obtaining food from another country and establishes trade relations in a sustainable manner. In an environment with such rules, Kenya stands out from other countries thanks to its many advantages.
When we look at the most suitable conditions for the cultivation of Hass type avocados, one of the most preferred varieties in the world, the weather conditions should not be exposed to neither freezing nor extreme heat. In addition, with an altitude ranging between 1000-2000 meters, well-distributed rainfall throughout the year, sunshine and ideal soil diversity, Kenya's agricultural lands stand out as the most suitable geographical region for avocado cultivation. Again, in terms of its ability to respond to avocado demands throughout the year, Kenya's ability to ship products at all times of the year compared to other countries, its logistics infrastructure and transportation vehicles, packaging, food safety and having the necessary international certifications make Kenya stand out compared to other avocado producers in the world.
In addition to all these, the fact that avocado cultivation in Kenya is carried out organically and the input costs are low is much more reasonable compared to the prices of other growing countries, and this makes Kenya a rapidly developing avocado producer country.
As can be seen, there is an increasing demand for avocados in the world and Kenya stands out as a new route among the countries that want to respond to this demand. As Latmek Ltd, we try to offer you the best avocados at the best price and in the best quality with our organic and traditionally grown avocado farms located in various parts of Kenya. Do not doubt that you will receive all kinds of information and support from us about avocado imports. We are just a phone call away…
Hope to see you in our next article…